Commercial Pest Control
Helpline : +267 3930146
Effective commercial pest control involves a comprehensive approach that addresses the cause not just the effects of pest infestation. Large commercial operations like retail outlets, hotels,  factories, and shopping centers require pest control services that are done effectively without interrupting your daily operations. Common pests include cockroaches, rodents, pigeons, and flies that create an unhygienic environment and can negatively affect your business. We get rid of all wood destroying, health and nuisance insects like borer beetles, termites, bed bugs, ants, mosquitos, cockroaches, and flies. We also remove rodents and pantry pests like flour beetles effectively. Food safety is one of our most important focus areas and because of that, we offer a fully HACCP-compliant service. Fumigation:  We fumigate safely and effectively, whatever the location or size of the job.
OUR RANGE OF ENVIRONMENTALLY
SAFE SOLUTIONS
ALSO INCLUDES:
WHY OPT FOR THE SPECIALISTS TO ADDRESS YOUR
COMMERCIAL PEST CONTROL
NEEDS?


We have been a recommended and trusted provider of commercial pest control since 1978


Our skilled professionals are duly registered with the relevant regulatory bodies.
We train our commercial pest control technicians with industry experts to deliver professional and efficient results. They undergo comprehensive training and hold industry certifications in health and safety best practices. Our technicians are experts in providing unobtrusive commercial pest control services, ensuring minimal disruption to your business operations.
We understand that every client's pest control needs are different. That's why we perform a thorough inspection of your property and customise a commercial pest management plan tailored to your specific needs and requirements.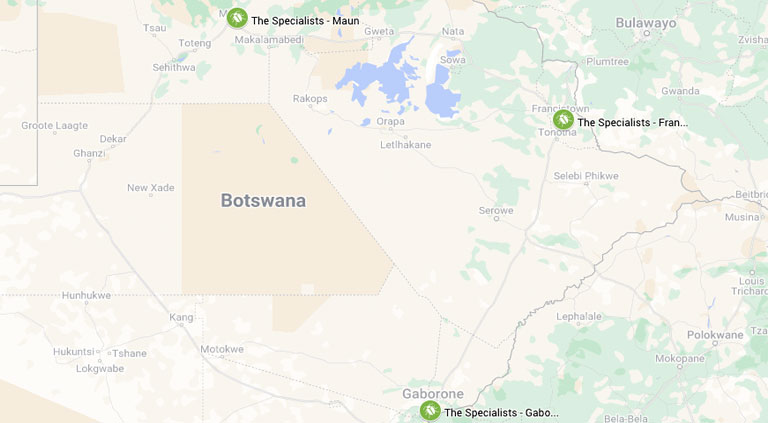 Our professional pest control solutions are easily accessible throughout Botswana, as we have multiple branches located in different regions. This extensive network allows us to provide expert commercial pest control services wherever you are located.
TIPS FROM THE
COMMERCIAL PEST CONTROL
EXPERTS:

A strict cleaning schedule is important for preventing pest infestations
Pests are attracted to sources of food and water; this means that all organic waste needs to be disposed of properly, and fix any leaking taps or pipes.

Educate all staff about sanitation best practices in order to avoid an infestation as inadequate sanitation encourages infestations
If you have an existing infestation, contact a professional pest control company immediately to address the problem before it affects your business
"I have been using pest control for a number of years now and am extremely satisfied with your service. I am also very impressed by your persistence in trying to reach me when treatments are due. Well done and keep up the good work"
"Pest Control Specialists have successfully implemented an ADVANCED TERMITE MANAGEMENT SYSTEM in gaining full control of a very serious termite attack on the ORAPA HOUSE HIGH RISE BUILDING, that falls under The Office of The President." Continue Reading>>